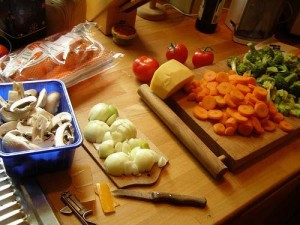 This week I discovered a wonderful new cooking and recipe blog, More Thyme Than Dough. It was started last February in response to these economically difficult times. More people are eating at home and need to prepare low-cost meals.
The website offers insights into food, delicious recipes with a detailed cost analysis, and beautiful, step-by-step photographs of the cooking process.
The physiology, evolutionary significance, and pleasure of taste
Back in March and April of 2009 I wrote a long series of posts on taste. I got interested in the subject when I came across the idea of supertasters – individuals who are overly sensitive to bitter tastes and, as a result, have their own peculiar food preferences. The percentage of people who are supertasters varies by nationality and ethnicity, but in the US it's about 25%.
When More Thyme Than Dough contacted me about quoting one of my posts on taste (see the result at I Am not a Picky Eater!), I decided to resurrect them and present them here as a series. Read more