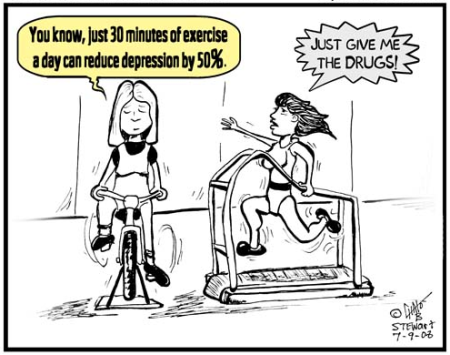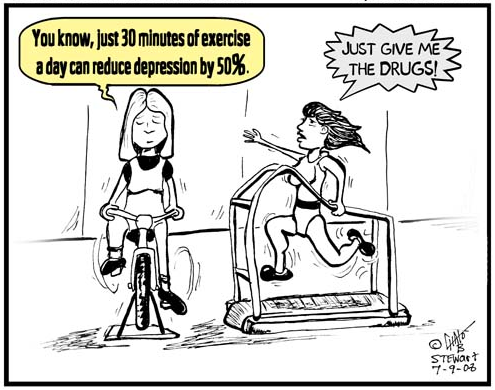 Reading Notes #3: Some articles of interest I've come across while reading NEJM and JAMA. These items all fall into the category of health news.
Bulleted titles in the following list link to the individual items below. Under References I indicate the accessibility of articles: OA means open access, $ indicates a pay wall.
HEALTH NEWS
There are many possible causes of depression. Some have biological explanations (or, at least, speculations) — genetic vulnerability, medications, chemicals in the brain. Others are personal and psychological: Stressful life events such as illness, divorce, a death, unemployment. (Personally, I would add, there's also the philosophical despair that follows exposure to the world's greed, inequality, injustice, violence, suffering, and misogyny.) It's much easier for biomedicine to study the biological causes than the psychological (or philosophical) ones.
Physical exercise is often recommended as a way to alleviate depression and to alter our mood. Biomedicine would like to know if exercise changes the chemicals in our brain. A recent article in NEJM reports on a study that suggests it does: Muscling In on Depression.
The explanation is rather technical (involving kynurenine metabolism), but here's my very high level summary. Tryptophan, an essential amino acid in the human diet, is found in foods containing protein (it's also in chocolate). When we experience stress, organs such as the liver produce enzymes that cause tryptophan to produce — to metabollize into — kynurenine, a metabolite. Sometimes quite large amounts are produced, and kynurenine can pass through the blood-brain barrier. Kynurenine is associated with depression, cognitive deficits of schizophrenia, Alzheimer's, and tics. Exercise produces an enzyme that converts kynurenine to kynurenic acid, which does not pass through the blood-brain barrier.
Towards the end of the article, there's this sentence:
This proposed mechanism also provides a platform from which experimental new treatments — possibly mediators of the skeletal-muscle pathway — may be tested for their ability to bring about exercise-like responses and stress resiliency.
Admirable, no doubt, but do I detect here the possibility that pharma may soon be at work on a pill it can market as an alternative to exercise?
The study, BTW, was done on "freewheeling" mice. So there was no occasion for speculation on how exercise might make us feel better psychologically simply by taking our minds off our troubles or improving our mood by enhancing our self-image.

• Aspirin for primary prevention
Studies show that aspirin is beneficial during acute cardio events (myocardial infarction, stroke). It's also recommended for secondary prevention after a major cardiovascular event. But should it be recommended for primary prevention? Should patients who are not at risk for heart problems take a daily dose?
We don't know. A recent study published in JAMA (Low-Dose Aspirin for Primary Prevention of Cardiovascular Events in Japanese Patients 60 Years or Older With Atherosclerotic Risk Factors: A Randomized Clinical Trial) concludes:
Once-daily, low-dose aspirin did not significantly reduce the risk of the composite outcome of cardiovascular death, nonfatal stroke, and nonfatal myocardial infarction among Japanese patients 60 years or older with atherosclerotic risk factors.
An editorial that accompanies the study (When Should Aspirin Be Used for Prevention of Cardiovascular Events?) discusses how difficult it is to conduct randomized controlled trials of aspirin for primary prevention.
The same JAMA issue reprints an editorial from 1944 that asks Is Aspirin a Dangerous Drug?:
The mass of evidence so far available indicates that aspirin and the salicylates are among the least toxic of active pharmacopeial preparations. This status, however, should not be interpreted as an excuse for failure to recognize hazards connected with their abuse.
The editorial points out that aspirin has been widely available since 1899 and that "the vast majority [of persons] take it with apparent impunity."
The invasive procedures that screen for colon cancer include colonoscopy (examines the entire large intestine) and sigmoidoscopy (examines only the final portion of the descending colon). The most widely used screening tool for colon cancer, however, is the annual fecal occult blood test, which patients can perform in the privacy of their own bathroom. As the name suggests, this test examines a stool sample for the presence of blood.
There is now a new test called Cologuard (guards the colon, get it?), also referred to as a stool DNA test. It was approved by the FDA in August. Cologuard detects the presence not only of blood, but also DNA mutations that may be present when there are abnormal growths in the colon.
There's a discussion of the new test in JAMA: A Stool DNA Test (Cologuard) for Colorectal Cancer Screening. There's also more information in the FDA press release: FDA approves first non-invasive DNA screening test for colorectal cancer.
The Affordable Care Act (aka Obamacare) mandates free preventive screening for all patients for certain tests (those rated A or B by the U.S. Preventive Services Task Force). The CMS (Centers for Medicare & Medicaid Services) has proposed that Medicare should cover the cost of a Cologuard screening once every three years. Medicare currently pays $23 towards a fecal occult blood test. The cost of the new Cologuard test is $599.
Related posts:
The duty to be happy
Is the prevalence of depression related to the modern empowerment of the individual?
The unavoidable and burdensome responsibility to be happy
We're all on Prozac now
How much exercise do we really need?
Why women should not ride bicycles: The medical opinion in 1896
Does chocolate prevent heart disease?
Are some diseases more prestigious than others?
Screening for cancer and overdiagnosis
Image source: House Call MD
References:
Andrew Harkin, Muscling In on Depression, NEJM, December 11, 2014, Vol 371, No 24, pp 2233-2334 ($)
J. Michael Gaziano and Philip Greenland, When Should Aspirin Be Used for Prevention of Cardiovascular Events?, JAMA, December 17, 2014, Vol 312, No 23, pp 2503-2504 ($)
Yasuo Ikeda, Kazuyuki Shimada, Tamio Teramoto, Shinichiro Uchiyama, Tsutomu Yamazaki, Shinichi Oikawa, Masahiro Sugawara, Katsuyuki Ando, Mitsuru Murata, Kenji Yokoyama, and Naoki Ishizuka, Low-Dose Aspirin for Primary Prevention of Cardiovascular Events in Japanese Patients 60 Years or Older With Atherosclerotic Risk Factors: A Randomized Clinical Trial, JAMA, December 17, 2014, Vol 312, No 23, pp 2510-2520 ($)
Is Aspirin a Dangerous Drug?, JAMA, December 17, 2014, Vol 312, No 23, p 2577; Reprinted from JAMA, 1944, Vol 124, No 12, pp 777-778 ($)
A Stool DNA Test (Cologuard) for Colorectal Cancer Screening, JAMA, December 17, 2014, Vol 312, No 23, pp 2566-2567 ($)
U.S. Food and Drug Administration, FDA approves first non-invasive DNA screening test for colorectal cancer, August 11, 2014 (OA)