The occasion for the rambling reflections on neoliberalism in the previous post was three "perspective" articles on tobacco in a recent issue of The New England Journal of Medicine. Two of them concern the FDA's attempt to place graphic warnings on cigarette packs. The other is on cigarette smoking among the homeless.
The First Amendment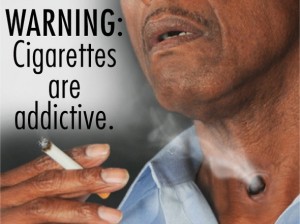 Placing graphic warnings on cigarette packs was part of the 2009 Family Smoking Prevention and Tobacco Control Act. The tobacco industry sued the FDA (R.J. Reynolds Tobacco Co. v. FDA), claiming the warnings violated the industry's First Amendment rights. In a case decided last year, the tobacco industry won.
David Orentlicher, in his article The FDA's Graphic Tobacco Warnings and the First Amendment, writes that the decision is both surprising and not surprising. It's not surprising "given the Supreme Court's increased sympathy toward corporations and their First Amendment rights. Regulations of commercial speech often succumb to judicial scrutiny." It's surprising because, while the Supreme Court now restricts the government's power to regulate corporate speech, it has not in the past interfered with the government's authority when it comes to regulating matters of public health. Evidently, that's not the case anymore.
The upshot: (emphasis added)
[C]ompanies today are better able to promote their products, and government is less able to promote health than was the case in the past. Ironically, early protection of commercial speech rested in large part on the need to serve consumers' welfare. In 1976, for example, the Supreme Court struck down a Virginia law that prevented pharmacists from advertising their prices for prescription drugs. The law especially hurt persons of limited means, who were not able to shop around and therefore might not be able to afford their medicines. Today, by contrast, courts are using the First Amendment to the detriment of consumers' welfare, by invalidating laws that would protect the public health.