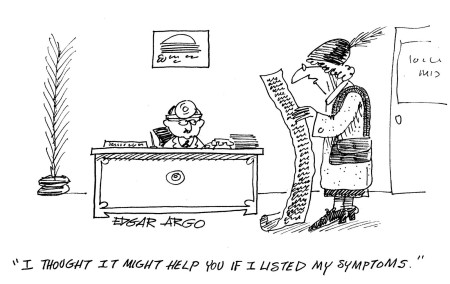 When I want to know more about a medical condition, my first Internet destination is the Mayo Clinic's website. It seems both reputable and decidedly non-alarmist.
Each condition is organized into a series of information packets: definitions, symptoms, causes, risks. There's invariably a section called "Preparing for your appointment." Without fail, it recommends that you make a list of your symptoms. Here's an example:
Before your appointment, make a list that includes:

Detailed descriptions of your symptoms
Information about medical problems you've had in the past
Information about the medical problems of your parents or siblings
All the medications and dietary supplements you take
Questions you want to ask the doctor
Once you've begun interacting with your doctor, it can be easy to forget something you'd intended to ask.
I was somewhat surprised, then, to learn that some doctors are decidedly irritated when a patient brings a list to an appointment. Dr. Suzanne Koven discusses this in a Perspective piece in NEJM: The Disease of the Little Paper. Read more