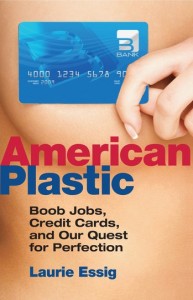 A less pithy title – and what I really mean – would be "Imagine a future where aesthetic cosmetic surgery wasn't motivated by the images of celebrities/advertising/porn and by the dissatisfaction with normal bodies that these images create."
In the concluding chapter of her new book, American Plastic: Boob Jobs, Credit Cards, and the Quest for Perfection
, Laurie Essig suggests we might try using reality-check groups before going under the knife. We could weigh our decision, benefit from the input of friends, then opt for lipo if we were still determined to pursue perfect beauty relentlessly at any cost.
The purpose of such groups would not be to dissuade members from getting cosmetic surgery. It would simply introduce some objectivity. You might decide you really should get that facelift or breast augmentation, but "you will at least be making a far more informed and realistic choice than if you sit at home alone and watch plastic surgery shows while you try to pay your bills and fantasize that if only you looked better you'd have more money because your career would suddenly take off or Prince Charming would finally show up, haul you up onto the back of his horse, and ride off with you."
The beauty solution
As part of her research for the book, Essig attended a number of conferences for plastic surgeons. One of them was in East Berlin, a meeting of the International Confederation for Plastic, Reconstructive, and Aesthetic Surgery.
The secretary-general of that organization, Dr. Eisenmann-Klein, delivered a speech on the future of cosmetic surgery. She quoted William Mayo (of Mayo Clinic fame) on "the divine right of man to look human." She cited scientific studies that show the brain is hardwired for the "survival of the prettiest." Currently 87.5% of cosmetic surgery clients are female, but – according to the good doctor – "the good news is that men in industrialized countries were becoming less satisfied with their bodies." Read more