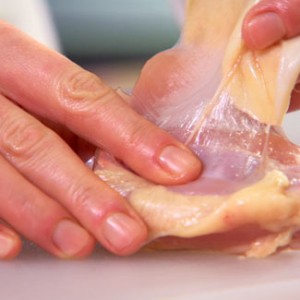 FDA Report: Alarming Amounts of "Superbugs" in Supermarkets (Bnet)
Superbugs (bacteria resistant to antibiotics) in meat are a much more common and widespread problem than anyone would like to admit, according to federal government report. Chicken breasts, ground turkey, ground beef and pork chops tested.
Superbugs in Canadian chicken? Yes, and US too (Wired)
15% of bacteria on chicken breasts and ground turkey are resistant to 4 or more classes of antibiotics. Drug-resistant bacteria in food won't diminish until we reduce the amount of drugs that food animals receive while they are raised.
An insomniac learns to make the most of getting the least sleep (WaPost)
Insomnia affects 1 in 3 Americans. For one in 10 it's chronic. "Are you getting adequate sleep when you are up for an hour or two a night or truncating your sleep on either end?" Sleep expert says no. There's a cost to overall health.
Can relaxation drinks put you to sleep? (Health News Review)
Gary Schwitzer gives 4 stars to story on drinkable melatonin, valerian, other supplements. "The public should understand that behavior change will nearly always trump a pill (or supplement, etc.) for long-term efficacy and health effects."
Ecuadorean Villagers May Hold Secret to Longevity (NYT)
Villagers with a type of dwarfism are almost completely free of cancer and never get diabetes, even when obese. They have the same genetic variant that makes roundworms live twice as long as normal.
Heavy Rains Linked to Humans (NYT)
New study finds severe rainstorms, heavy snowfalls can't be explained by variability in the atmosphere. But they make sense if you factor in the effects of greenhouse gases released by human activities like burning fossil fuels.
Ten newborn baby animals (UPI)
For animal lovers. Newborn rhino, giraffe, owl, panda, dolphin, rare Francois' langur, anteater, camel, leopard, and tiger. Photos are from zoos.
Image (chicken): bonbims
Image (rhinos): UPI