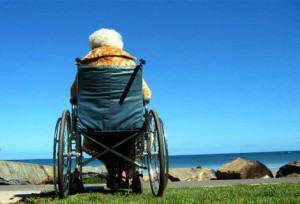 A nice op-ed in the NY Times touches on our belief that living a healthy lifestyle guarantees a long and able-bodied life. The author, Susan Jacoby, speaks specifically to the issue of dementia and Alzheimer's.
Members of the "forever young" generation — who, unless a social catastrophe intervenes, will live even longer than their parents — prefer to think about aging as a controllable experience. …

Contrary to what the baby boom generation prefers to believe, there is almost no scientifically reliable evidence that "living right" — whether that means exercising, eating a nutritious diet or continuing to work hard — significantly delays or prevents Alzheimer's. …

Good health habits and strenuous intellectual effort are beneficial in themselves, but they will not protect us from a silent, genetically influenced disaster that might already be unfolding in our brains.
Jacoby cites a review of knowledge about Alzheimer's sponsored by the National Institute of Health. (emphasis added) Read more