It's Thanksgiving and I'm feeling 'Ich habe genug' (I have enough). I'd like to share some poetry, music, and a film while continuing the 'death' theme of my last blog post.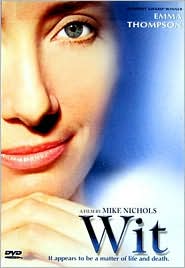 First the film, Wit, starring Emma Thompson and directed by Mike Nichols. It's the story of Vivian, a woman with ovarian cancer who spends the end of her life in a hospital. Talk about aggressive treatment of the terminally ill. She's basically a guinea pig for an experimental drug that has no chance of saving her life. The young doctor who oversees her treatment will get a publication out of the case. He's a resident planning a career in research and has no interest in ever seeing patients again. He's only there because it's one of the requirements on the road to becoming an MD
Wit is based on a Pulitzer Prize-winning play. Very minimal. Lots of monologue. Vivian was a professor of English literature and quotes the metaphysical poet John Donne (of "Death be not proud" fame) throughout the film. The contrast between the poetry and the setting is beautifully done. Donne had much to say about death, but he lived in an era when death had a different meaning. Or more precisely, when death had a meaning.
Sounds a bit gloomy, I know, but it's an excellent film. Watch it with a friend, if you can. It's very thought provoking. This is exactly the way we don't want to die. The more we're aware of what we don't want, the more we'll be motivated to change the way things are.
Next, a poem by Jacques Prevert, "Pater Noster." The poem received some publicity when Meadow Soprano read the first few lines to her Level 1 ICU-docked Dad: "Our father, which art in heaven, stay there. And we shall stay on earth, which is sometimes so pretty."
Here is the French version. And here's an English translation.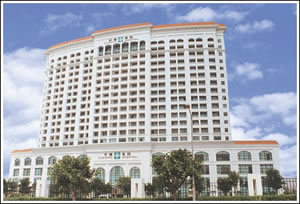 Philip Larkin's poem "The Building" is about a hospital. Here's the complete poem, and here are the last few lines:
All know they are going to die.
Not yet, perhaps not here, but in the end,
And somewhere like this. That is what it means,
This clean-sliced cliff; a struggle to transcend
The thought of dying, for unless its powers
Outbuild cathedrals nothing contravenes
The coming dark, though crowds each evening try

With wasteful, weak, propitiatory flowers.
I've been partial to Larkin ever since I read "This be the verse" at an impressionable age.
And continuing the theme of Genug, here's the Bach Cantata, "Ich habe genug".