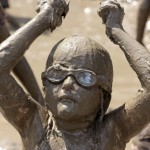 Why Keeping Little Girls Squeaky Clean Could Make Them Sick (NPR)
The hygiene hypothesis: children exposed to lots of germs early in life less likely to develop allergies, asthma, autoimmune disorders. Women have higher rates of these disorders. Is that because girls are held to higher standards of cleanliness?
Grief, Unedited (NYT)
Memoirs on the loss of a spouse, such as the latest from Joyce Carol Oates
, don't teach us about typical mourning experience. Most older people whose spouse dies from natural causes recover much more quickly than we have come to expect. For many, acute grief subsides less than six months after the loss. By the author of The Truth About Grief: The Myth of Its Five Stages and the New Science of Loss
.