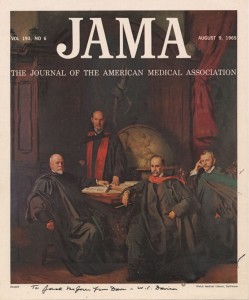 The American Medical Association (AMA) was founded in 1847, a time of significant change in the practice of medicine and of intense competition among practitioners. It began publishing its peer-reviewed medical journal, The Journal of the American Medical Association or JAMA in 1883. The AMA has just named a new editor-in-chief for that journal, Howard C. Bauchner, a pediatrician from Boston University School of Medicine.
The two medical journals in the US that cover general medicine — as opposed to specialties — are JAMA and The New England Journal of Medicine (NEJM, founded in 1812). Both have their strong points. JAMA preserves the humanistic tradition of medicine. Each issue includes poetry, a personal essay, book reviews, and artwork on the cover that's thoughtfully discussed.
It's much more stodgy than NEJM, however, at least in my opinion. During the presidential election and then during the debate over health care reform, NEJM published timely commentaries on the issues and made them available online to non-subscribers. It continues to cover topics such as the legal challenges to the health care bill. Not only does JAMA give less space to these issues. Articles in JAMA are not available online without a subscription ($165 for 48 issues).
Reaching the general public in an online world
That may change with the new editor-in-chief. Dr. Rita Redberg, editor-in-chief of the Archives of Internal Medicine (also published by the AMA) told Reuters that JAMA faces the same issues that confront newspapers and magazines these days: "how to live and flourish in this online world." Read more