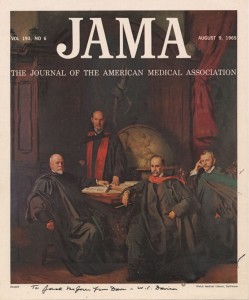 The American Medical Association (AMA) was founded in 1847, a time of significant change in the practice of medicine and of intense competition among practitioners. It began publishing its peer-reviewed medical journal, The Journal of the American Medical Association or JAMA in 1883. The AMA has just named a new editor-in-chief for that journal, Howard C. Bauchner, a pediatrician from Boston University School of Medicine.
The two medical journals in the US that cover general medicine — as opposed to specialties — are JAMA and The New England Journal of Medicine (NEJM, founded in 1812). Both have their strong points. JAMA preserves the humanistic tradition of medicine. Each issue includes poetry, a personal essay, book reviews, and artwork on the cover that's thoughtfully discussed.
It's much more stodgy than NEJM, however, at least in my opinion. During the presidential election and then during the debate over health care reform, NEJM published timely commentaries on the issues and made them available online to non-subscribers. It continues to cover topics such as the legal challenges to the health care bill. Not only does JAMA give less space to these issues. Articles in JAMA are not available online without a subscription ($165 for 48 issues).
Reaching the general public in an online world
That may change with the new editor-in-chief. Dr. Rita Redberg, editor-in-chief of the Archives of Internal Medicine (also published by the AMA) told Reuters that JAMA faces the same issues that confront newspapers and magazines these days: "how to live and flourish in this online world."
In a press conference, Bauchner spoke of his ideas for JAMA: participating in discussions about the delivery of health care, the outdated medical school format for training doctors, and the need to reach the general public. He mentioned social networks, podcasts, and publishing shorter articles with longer abstracts. "Reading habits have changed and many readers only consumer [sic] the abstract," said Bauchner.
JAMA's current policy is to make only the first 100 words of an abstract available online to nonsubscribers. Let's hope that policy will change if he wants to reach the general public. Or perhaps what he's thinking is that the content of the journal will be of more interest to the public, and he will rely on medical journalists to convey that content.
The JAMA website was recently updated, and it's much more spiffy than it used to be. But NEJM has been much more innovative in what it's done online, such as providing free access to its archive of articles on infectious diseases during the swine flu epidemic last year.
Bauchner replaces Catherine DeAngelis – editor-in-chief for the past 11 years – who is returning to Johns Hopkins, where she will develop a Center for Professionalism in Medicine and the Related Professions. During her tenure, issues of professionalism in medical publishing – such as conflict-of-interest and ghost writing – received considerable attention.
Related posts:
Sanjay Gupta, George Lundberg, and Obama's Enneagram type
Andrew Wakfield: The integrity and validity of science
How to read health news
Health news and competitive journalism
Resources:
Image: McGovern Library
Ron Winslow, A Boston Pediatrician Is Picked to Lead JAMA, The Wall Street Journal, March 10, 2011
Katherine Hobson, JAMA Editor Catherine DeAngelis to Leave Post Next Summer, The Wall Street Journal, September 1, 2010
Carolyn Y. Johnson, BU medical school doctor to head leading journal, Boston Globe, March 11, 2011
Robert Lowes, New JAMA Editor Favors Shorter Articles, Longer Abstracts, Medscape Today, March 10, 2011
Ivan Oransky, Leading medical journal JAMA names new editor, Reuters, March 10, 2011