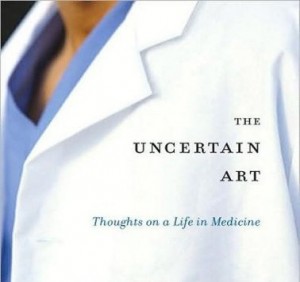 In a recent issue of JAMA, Dr. Michael H. Monroe recalls how medicine has changed in the mere 14 years he's been practicing. His desk has a drawer on the lower right where – at the start of his practice — he began collecting articles and stories on the medical humanities and the art of medicine. Over time, that drawer has fallen into neglect.
Addressing a mentor who retired shortly after he began his own practice, Dr. Monroe writes: (emphasis added)
A 14-year career of rounding, teaching, and publishing has not the longevity you had at your "retirement," but it feels like it's become an increasingly wearying few years. Concerns of coding, billing, documenting, administration, computers, surveys, rules, regulations, and politics have increasingly occupied my mind and space like an intracranial tumor, slowly compressing my right hand drawer. …

Medicine today is science, and business, and law (perhaps not in that order) but not so much art as it seemed to be even when I started. It is a world of statistics, evidence-based medicine, and quality improvement; of increasing things to count, to codify, and to structuralize. I know why we are counting, why it is important, essential even, and we are doing better, say the numbers, and I mark the progress but still can't shake the feeling that in medicine, things easily counted need to be distrusted. Despite years of study and numbering, after all, we still haven't settled the role of vitamins, hydrochlorothiazide, mammograms, aspirin, diabetes control, or almost any other topic in medicine including statistical analysis itself. What I have slowly realized and come to reluctantly is how hard it is to prove that anything is true. …

There needs to be sufficient space for that which will always remain uncounted because it cannot be counted; because it cannot be counted should not diminish it. The bureaucratization of medicine with increasingly complex rules, codes, algorithms, prompts, bylaws, schedules, and administrative structure is leaving its mark, but medicine at its fundamental is still about suffering, healing, and comforting; it is about individuals; it is about relationships and trust; it is about stories.

My drawer on the right has become smaller to accommodate the burgeoning new realities of medicine.
Related posts:
The physician as humanist
The art and science of medicine
The physician as poet
The physician as reader of poetry
We're all on Prozac now
From MD to MBA: The business of primary care
Patient safety and corporate profits
Resources:
Image: Bookeg
Michael H. Monroe, MD, Drawer on the Right, The Journal of the American Medical Association, March 23/30, 2011, Vol. 305, No. 12, pp 1176-1177