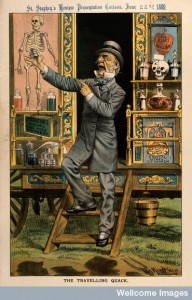 Here's an editorial from an issue of The Journal of the American Medical Association published 100 years ago (emphasis added):
One of the cruellest and most despicable phases of the "patent medicine" business is the studied effort made by nostrum exploiters to frighten their victims into the belief that they are suffering from some more or less serious disease. Not content with the sale of their preparations to those who have—or who believe they have—one of the many diseases for which the products are recommended, the "patent medicine" vendors strive to create an artificial demand for their stuff by working on the imagination of the healthy and persuading them that they are sick. The scheme is an old one but none the less disreputable. One of the more recent modifications of this trick is the "gall-stone remedy" fake …
Compare this with a discussion of medicalization by Carl Elliott in his new book, White Coat, Black Hat
. After describing how the condition formerly known as "urge incontinence" was repositioned as "overactive bladder" (to remove the stigma), he continues (emphasis added):
Because it is difficult to create a disease without the help of physicians, companies typically recruit physician thought leaders to write and speak about any new concepts they are trying to introduce. "It is always presented as a scientific and clinical opportunity to help patients," says Peter Whitehouse, a neurologist at Case Western Reserve University. Physicians must be convinced that a new disease category actually describes a patient population whose symptoms warrant a drug. It also helps if the physicians believe the condition is dangerous. When AstraZeneca introduced Prilosec (and later Nexium) for heartburn, for example, it famously repositioned heartburn as gastroesophageal reflux disease, or GERD. But it also commissioned research to demonstrate the devastating consequences of failing to treat it. Once physicians are on board, a company can get a concept like overactive bladder or reflux disease into widespread circulation simply by funding CME [Continuing Medical Education] events, journal supplements, and disease awareness campaigns. "That's easy," says Whitehouse. "You just have to have enough money."
The American Medical Association once complained about rival practitioners who invented new diseases. A hundred years later, medical thought leaders (also known as KOL — Key Opinion Leaders) are paid to promote new diseases.
Is this progress?
Related posts:
Should grief be labeled and treated as depression?
How the pharmas make us sick
Selling drugs like chewing gum
Are Americans naive about medicine?
Resources:
Image source: The Quack Doctor
Suggestion and Nostrums, The Journal of the American Medical Association, September 24, 1920
Carl Elliott, White Coat, Black Hat: Adventures on the Dark Side of Medicine