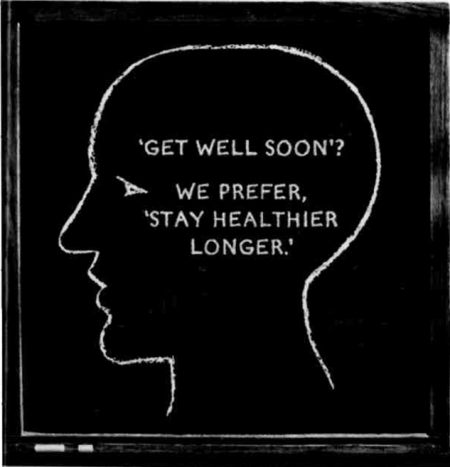 I came across the following sentence in The Positive Thinkers, a book originally published in 1965. It strikes me as a good example of how the meaning of health has changed. (emphasis added)
Health is ordinarily regarded — when it is "regarded" at all, for ordinarily the point of being healthy is to be able to forget about it — as a means to other things; healthy men are those able to pursue their ends.
Health is hardly something we're able to forget about today. We live in a culture where it's commercially profitable to constantly remind us of widespread, proliferating risks. The conscious, highly intentional pursuit of health is a mark of social status for which we expect to be admired and envied. We "regard" it all the time.
The changing meaning of health is captured in the above graphic: 'Get well soon'? We prefer 'Stay healthier longer.' The image is from an ad by drug company Pfizer, and it concisely illustrates the argument made by Joseph Dumit in his excellent book, Drugs for Life. Dumit chronicles how the pharmaceutical industry has been able to convince us (and the medical profession) that we are inherently unhealthy and in constant need of treatment, preferably treatment that requires the lifelong ingestion of prescription drugs. (Another excellent book on this subject is Jeremy Greene's Prescribing by Numbers.)
It occurs to me that an interesting dissertation topic might be to examine "get well" greeting cards since the mid-twentieth century and observe just how much the health/illness message has changed.
Wate-On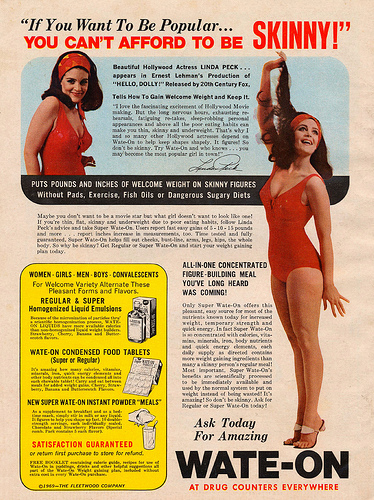 Just as our attitude towards health has changed since 1965, so has our conception of the ideal weight. Wate-on was a weight-gain product promoted to women in the mid-twentieth century. There's a nice selection of these vintage ads in a post by sociologist Lisa Wade (Wate-On: "True Beauty Includes a Full Figure"). She comments:
[D]uring the middle decades of the 1900s, being too skinny was a problem that women worried about. And Wate-On was there to help them achieve the "glamorous curves" of "popular" girls.
You can view additional vintage ads that promote weight gain in this article from the Daily Mail.
For a book that chronicles the influence of fashion, the food industry, concepts of fitness, and the medical profession on our changing attitudes towards weight, I recommend Roberta Pollack Seid's Never Too Thin: Why Women Are at War with Their Bodies. Unlike The Positive Thinkers, this is a book I thoroughly enjoyed.
Related posts:
The tyranny of health
"Tyranny of health" on KevinMD
The tyranny of health then and now
The last well person
What is healthism? (part one)
"I" Is for Innocent: Health obsession in fiction
When healthy eating becomes unhealthy
A self-indulgent account of my journey from 'Vanity' to the nature of the contemporary self
Image source: Sociological Images
References:
Donald Meyer (1965/1980/1988/2013), The Positive Thinkers: Popular Religious Psychology from Mary Baker Eddy to Norman Vincent Peale and Ronald Reagan (Subsequent editions have added new final chapters, but the 1965 characterization of health remains.)
Joseph Dumit (2012), Drugs for Life: How Pharmaceutical Companies Define Our Health. (I was somewhat surprised to find this entire book available online at Scribd.)
Jeremy Greene (2007), Prescribing by Numbers: Drugs and the Definition of Disease
Lisa Wade, Wate-On: "True Beauty Includes a Full Figure", Sociological Images, August 15, 2011
Tamara Abraham, 'Add 5lb of solid flesh in a week!' The vintage ads promoting weight GAIN, Daily Mail, November 30, 2011
Roberta Pollack Seid (1991), Never Too Thin: Why Women Are at War with Their Bodies