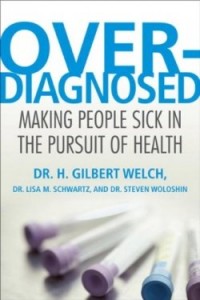 In his new book, Overdiagnosed: Making People Sick in the Pursuit of Health
, Dr. H. Gilbert Welch enumerates how the cutoff points that determine whether a patient should be treated for a disease – diseases such as high blood pressure, diabetes, osteoporosis — have been creeping inexorably lower over the years.
Take diabetes. The cutoff point used to be a fasting blood sugar level of greater than 140. In 1997, the number was lowered to 126. This immediately created 1.7 million new diabetes patients.
In a highly publicized study that began in 2003, one group of patients with type 2 diabetes received "intensive therapy" to make their blood sugar "normal." The control group – the other half of over 10,000 patients – received treatment to lower their blood sugar, but not to the new normal level. The trial was stopped in 2008 when it became clear that there was about a 25% increased risk of dying for the intensive therapy group.
Dr. Welch's comment on this: "If it's not good to make diabetics have near normal blood sugars, then it's not good to label those with near normal blood sugar diabetics. Why? Because doctors will treat them. People with mild blood sugar elevations are the least likely to gain from treatment – and arguably the most likely to be harmed."
High blood pressure (hypertension) was also redefined in 1997. Instead of the cutoff points being 160 systolic over 100 diastolic, the numbers dropped to 140 over 90. This created 13.5 million new patients.
The definition of high cholesterol (hyperlipidemia) changed following a 1998 clinical trial. The definition of "abnormal" total cholesterol fell from 240 to 200. This created 42.6 million new patients, an increase of 86% over the previous number of patients.
It's the same with the definition of osteoporosis. A bone mineral density X-ray produces a T score. It's a way to compare an individual's bone density to what's considered "normal." For women, normal is defined as the bone density of an average white woman aged 20 to 29 (a T score of zero.) If your T score is less than zero, it's assumed you have an increased risk of fracture.
In 2003 the definition of osteoporosis changed from having a T score less than -2.5 to less than -2.0 (i.e., closer to normal). This created 6.8 million new patients, an 85% increase in those now eligible for treatment with drugs that turned out to have significant side effects – as virtually all drugs do.
Conflict of interest: A much too familiar story
Throughout his book, Dr. Welch tries to be very objective and even handed. Here's what he has to say about potential conflicts of interest when it comes to setting new cutoffs for disease. (emphasis added)
Cutoffs are set by expert panels of physicians. I wish I could say that their determinations result from purely scientific processes. But they are more haphazard than that: they involve value judgments and even financial interests. …

There are widespread concerns about the independence of the experts who set the cutoffs for these conditions and others. The head of the diabetes cutoff panel was a paid consultant to Aventis Pharmaceuticals, Bristol-Myers Squibb, Eli Lilly, GlaxoSmithKline, Novartis, Merck, and Pfizer—all of which make diabetes drugs. Nine of the 11 authors of recent high blood pressure guidelines had some kind of financial ties—as paid consultants, paid speakers, or grant recipients—to drug companies making high blood pressure drugs. Similarly, eight of the nine experts who lowered the cholesterol cutoff were paid consultants to drug companies making cholesterol drugs. And the first cutoff for osteoporosis was established by a World Health Organization panel in partnership with the International Osteoporosis Foundation—an organization with a corporate advisory board consisting of 31 drug and medical equipment companies.

To be fair, many of these experts may be true believers, people who want to do everything they can not to miss anyone who could possibly benefit from diagnosis. But the fact that there is so much money on the table may lead them to overestimate the benefits and ignore the harms of overdiagnosis. These decisions affect too many people to let them be tainted by the businesses that stand to gain from them.
From healthism to overdiagnosis
Dr. Welch makes an excellent case for the dangers of overdiagnosis. In making that case, he's up against both entrenched financial and professional interests and a public health campaign that emphasizes prevention and early detection as the be-all-and-end-all for both health and the solution to high health care costs.
Overdiagnosis takes two: the patient population, on the one hand, and the medical profession/medical industry – pharmaceuticals, device makers, etc. – on the other. I suspect that overdiagnosis would not have become standard medical practice if the public had not subscribed to "healthism."
Healthism is the idea that a correct lifestyle is the key to avoiding disease and that each individual is personally responsible for his or her health (the environment and other corporate externalities be damned). I firmly believe that modifying behavior has less influence on overall health than genetics, social status, economic inequality, and environmental degradation. Understandably, that's not a message that is welcomed — and it's not just those with a financial interest in the status quo who oppose it. With so much uncertainty in the world today, ordinary citizens prefer to hold the comforting belief that their health is something they can control.
That's a big topic for another day. (For many other days, actually.) Understanding how this happened – how and why the public subscribed to the idea of personal responsibility for health — is why I started this blog. Slowly but surely I'm trying to find some answers. A wonderful new book on the subject is Against Health: How Health Became the New Morality
, edited by Jonathan Metzl and Anna Kirkland. I plan to present some of the ideas from this book in future posts.
Related posts:
The politics behind personal responsibility for health
Healthy lifestyles serve political interests
The tyranny of health
The last well person
Paging Dr. Frankenstein
Are the most heavily marketed drugs the least beneficial?
Overdiagnosed and overprotected children
The downside of overly aggressive cancer screening
Creating an epidemic of cancer among the healthy
Screening for cancer and overdiagnosis
Should grief be labeled and treated as depression?
The Health Culture: Yesterday. Today. Tomorrow.
Resources:
Image: Squidoo
H. Gilbert Welch, Changing the Rules, Dartmouth Medicine,
H. Gilbert Welch, Overdiagnosed: Making People Sick in the Pursuit of Health
The Action to Control Cardiovascular Risk in Diabetes Study Group, Effects of Intensive Glucose Lowering in Type 2 Diabetes, The New England Journal of Medicine, June 12, 2008, vol 358, pp 2545-2559
Jonathan Metzl and Anna Kirkland, editors, Against Health: How Health Became the New Morality