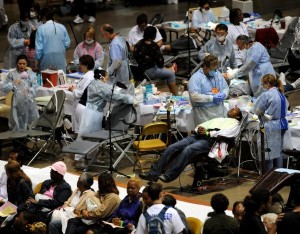 In January, Atul Gawande published an article in the New Yorker called "The Hot Spotters." It described medical pioneers who were engaged in a promising solution to both aspects of the health care crisis: rising costs and patients whom the current system fails. By concentrating on the sickest and most expensive patients – those with the most frequent visits to the emergency room, e.g. – and by assisting them as they return to health, the cost of care for these patients would be significantly reduced and the patients themselves could go on to live healthier and more productive lives. I wrote about the article here.
In February, the New Yorker published three letters to the editor in response to Gawande's article. The first advocated use of the Medical-Legal Partnership network for those suffering from poor housing conditions or the denial of food stamps and disability status. The second letter both contradicted and supported Gawande's case.
It's the third letter that really caught my attention. (emphasis added)
Gawande makes a strong case for the cost-cutting benefits of comprehensive case management for the small minority of patients who utilize medical services most intensively. Unfortunately, he dismisses what, from the standpoint of reducing total health-care expenditures, is the single most serious drawback to such an approach; namely, the probability that effectively case-managed patients will survive longer than they would without intensive ambulatory care and will thereby offset their reduced frequency of hospitalization with an increase in their time at risk. If an intervention reduces a patient's frequency of hospitalization from ten admissions annually to five, but simultaneously increases that patient's survival from one year to two, the intervention is fully justified medically but is a wash from a cost perspective. If it increases that patient's survival to two years and one month, it's a net liability.
Aaron Walton Newtown, Australia
I don't think there can be any misunderstanding as to what Mr. Walton is advocating here. This is rationing in its most naked form. Does it make me a bleeding-heart liberal to find this reasoning utterly objectionable? Surely even Sarah Palin wouldn't support such a position.
Health care for the poor is a moral and ethical issue
There was an interesting discussion recently on Marion Nestle's Food Politics blog that speaks to the issue of inequality and health. The topic was: Who is responsible for dealing with poverty? There were comments from both ends of the political spectrum.
The spectrum defined:
I was once told that the difference between a liberal and a conservative was that when the liberal looks at a homeless person, they see a failed society, but the conservative sees a failed person. The debate evidenced here on this post may be a classic example of this difference.
Here's someone trying to be reasonable:
Give people a safety net and they have fewer fears. As a consequence, they are less inclined to seek out unhealthy behaviors to deal with their anxieties that must then be treated at additional taxpayer cost that far exceeds the cost of the safety net.

Fair society, healthy lives = fewer taxes. Strident Republican's are missing a trick or two to reduce the size of government
Here's someone who has given up on being reasonable:
It would be nice if the rich had the grace to not let the rest of us starve, but they prefer to build prisons (and profit-making prisons at that) instead of schools, and that says a lot about contemporary amerika and the "free-market" ideals that our leaders espouse in the talking points provided to them by their corporate masters.

I want to believe that Americans are better people than this, but then I go and talk to a republican, and I give up all hope that humanity contains decent moral ethical people.
There was a good article on the subject of income inequality a few months ago in the Harvard Business Review, entitled "Why Business is Stuck on Income Inequality." Too much inequality slows economic growth. The business community would be better off with less inequality. But change is not in the immediate interest of any one business, and supporting less inequality goes against deeply held beliefs. The result: business doesn't act in its long-term interest and we have a stalemate on the issue of income inequality.
See also the recent New York Times discussion: Rising Wealth Inequality: Should We Care?
Related posts:
Can better care for the neediest patients lower costs?
Health care in America: You get what you deserve
Income inequality and American politics
Why the US doesn't have universal health care
Resources:
Image: UPI
Atul Gawande, The Hot Spotters – Can we lower medical costs by giving the neediest patients better care?, The New Yorker, January 24, 2011
Aaron Walton, Re: The Hot Spotters. A letter in response to Atul Gawande's article (January 24, 2011), The New Yorker, February 28, 2011
Justin Fox, Why Business is Stuck on Income Inequality, Harvard Business Review, January 26, 2011
Rising Wealth Inequality: Should We Care?, The New York Times, March 21, 2011